Whether it is a jewelry cabinet or a makeup mirror, it is equipped with a multi-functional storage box, which is exquisite and practical. The compact design is convenient for storing makeup brushes, eyebrow pencils, lipsticks, and eyeliners, which perfectly solves the problem of not finding makeup. It can also store rings, earrings, cosmetics, large-capacity design, save space and time, and bring convenience to life.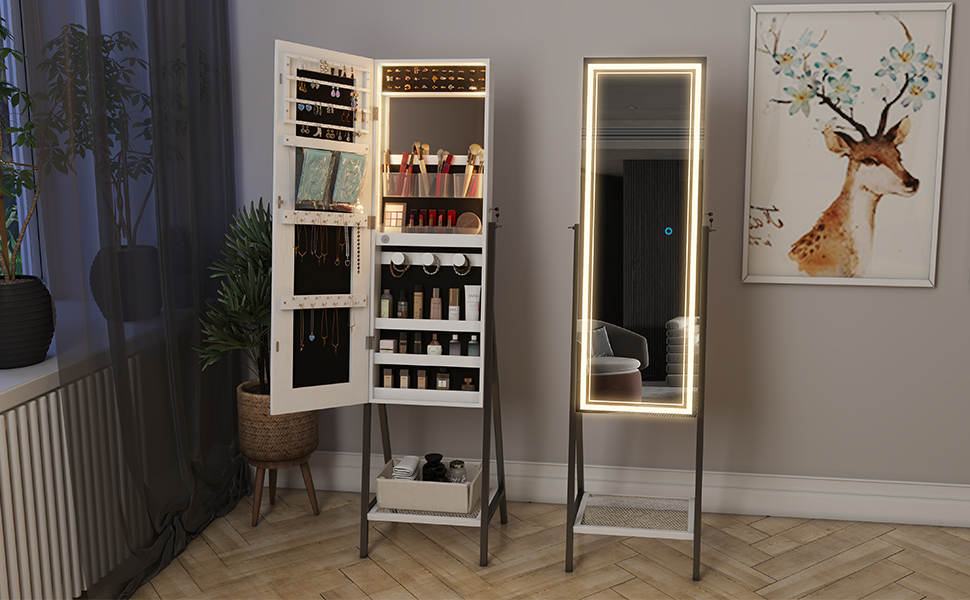 Full-screen mirror with LED lights: The jewelry cabinet features a full-length mirror design. Ultra-modern frameless glass mirror for excellent image reflection. LED lights on the mirror allow you to see your overall look.
Lockable design: Comes with a lock and 2 keys to protect your valuables. Your fine jewelry can easily be kept out of reach of children. The inner velvet interior protects the jewelry from scratches. Jewelry can also isolate external contamination when locked. So you don't have to worry about your jewelry being damaged and stolen.
Safe and strong: Premium MDF material makes it durable, and the iron leg design makes the mirror cabinet more load-bearing and enhances stability to prevent tipping over
Easy to install: With pre-assembled cabinets, you just follow the instructions to assemble the legs and attach the bottom shelf. If you have any questions, please feel free to keep in touch with us.